What is EasySQL Checker for Oracle Download Free Online SQL Formatter

EasySQL Checker for Oracle is a SQL syntax validation tool, It can check to see whether a SQL statement syntax is valid before you actually run it against Oracle. It can opens several SQL files together and check all on the fly,then you can go directly to where the syntax error occurs by just double click the error message.

EasySQL Checker for Oracle support Data Manipulation Language(DML) commands currently. (We will support all Data Definition Language (DML) commands,Transaction Control Commands,Session Control Commands and System Control Command soon). It also support SQL Functions,User Functoins,Expressions and Conditons in SQL statement.

SQL Parser for MSSQL,Oracle,DB2,MySQL is also available here.

Working with EasySQL Checker For Oracle
Open SQL Files

Use the open button to open one or more SQL Files, opened files will be listed in SQL Files.The content of selected SQL File will displayed in the editor.
The first part of status bar shows the line and column number of the current cursor in editor. The Second part shows whether file is modified. And the third part shows the full path name of the selected SQL Files.

Check SQL Files

Before Checking syntax of SQL Files,first select SQL Files that want to be checked,and then click the Check button.
If there are some errors in SQL Files, the error message will be listed in the error message part. Double click the error message,It will jump to the correct position where this error occurs.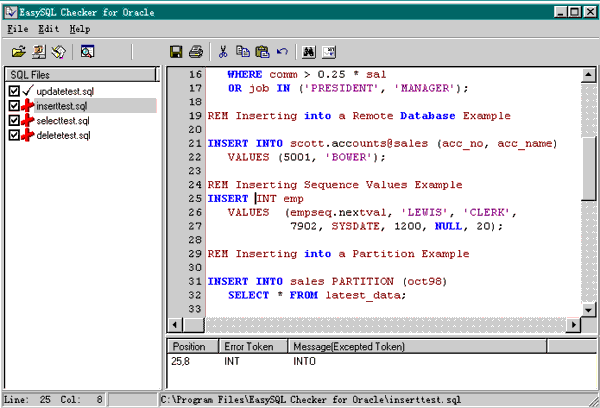 Fetures that will be available in the feature
Support all Data Definition Language (DML) commands,Transaction Control Commands, Session Control Commands and System Control Command in the end of Nov 2002.
Automatically fix some kind of errors such as missing semicolon at the end of SQL statement.
More accurate hint message about errors,such as keyword "FROM" excepted.
Your feedback about this tool.
If you want to develop tool like this using underlying API,contact us(support@wangz.net) for further discussion
Support Our further Working

We spent too much time and money into it ,If this tool has helped you, then you can help us byregistration this tool(only $39.95). to help support further development and web-server costs.
The trail verson difference from register version in that: It can only open one SQL Files. and when you click the error message,it shows a registration window before go to correct position where this error occurs.

Other Site

Gudu Software at http://www.wangz.net,Helps you as an Oracle database administrator or application developer in dealing with common database administration tasks.They provide Easy and powerful tools such as Oracle Session Manager and Easydump for Oracle.


---
Copyright 2002 EasyOra.Com. http://www.easyora.com All rights reserved